Our company supports more than one type of Email software platform. Our newest platform was upgraded to improve it's security and spam prevention. This particular server was previously identified as either of two hostnames — mail.intercape.com or mail.i-it.co.uk. Unfortunately, to accomplish the security improvements, the hostname must now be specified as only mail.i-it.co.uk and plain text password logins are no longer allowed. In general, if the email client settings are changed to allow TLS or SSL, and password authentication is selected, all other parameters should stay the same if the email account was working prior to the server upgrade. The mail server supports both POP and IMAP protocols. Below are some screen shots showing typical settings for some email clients.
Outlook Email client – POP setup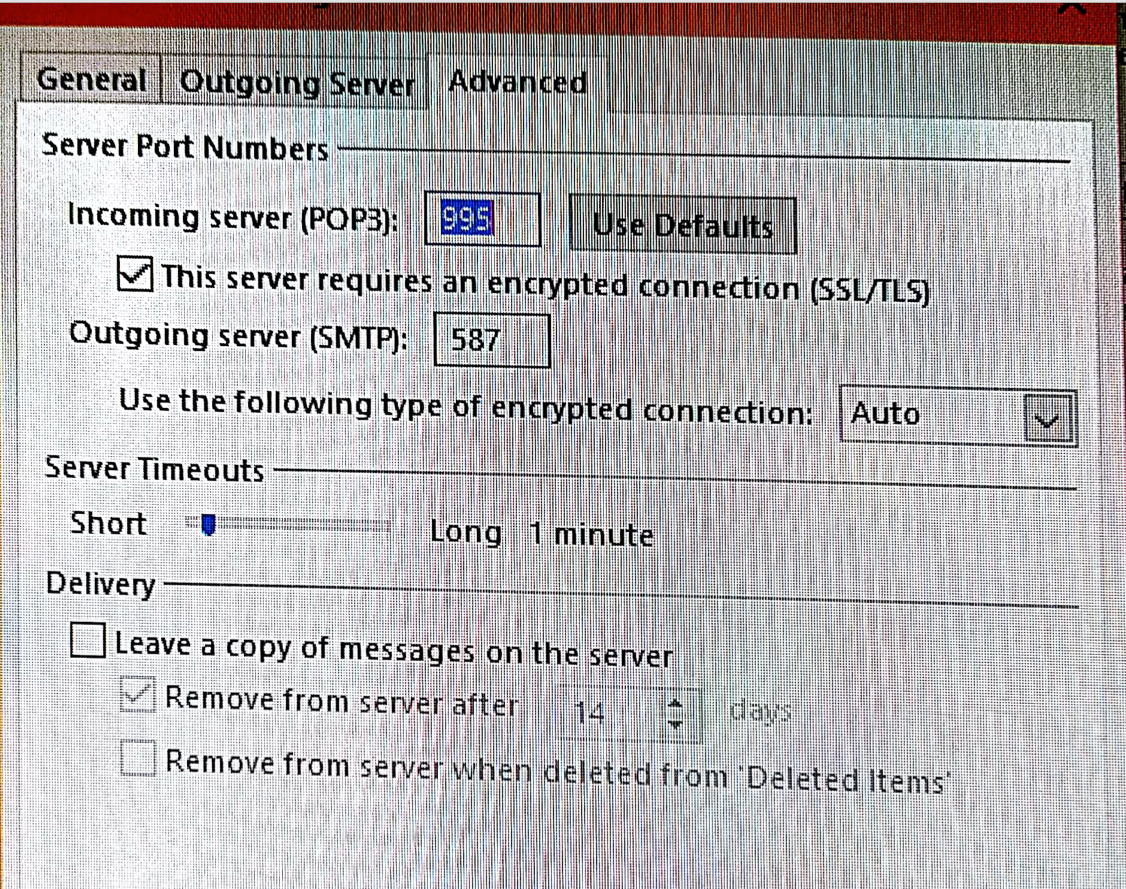 Note that SPA should not be checked

For outgoing mail to be sent, The Outgoing Server tab should have the requires authentication checkbox checked, The Log On using: account name and password should be filled out.

Thunderbird – IMAP example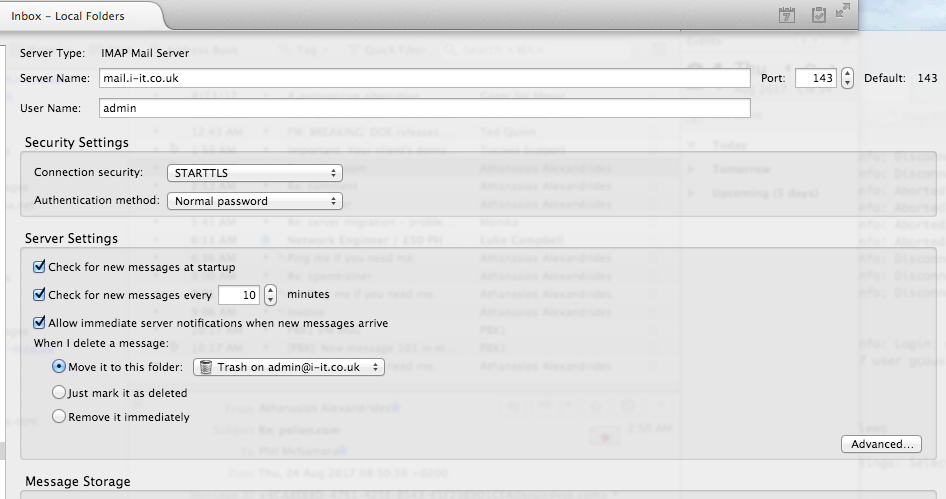 Outgoing mail should have these settings – with your user name specified (Postmaster is an example).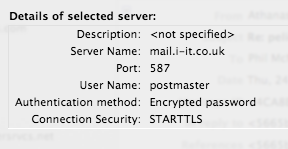 Apple Mail.app
The same guidelines will work with the Apple Mail application. Additionally the below IMAP settings will play: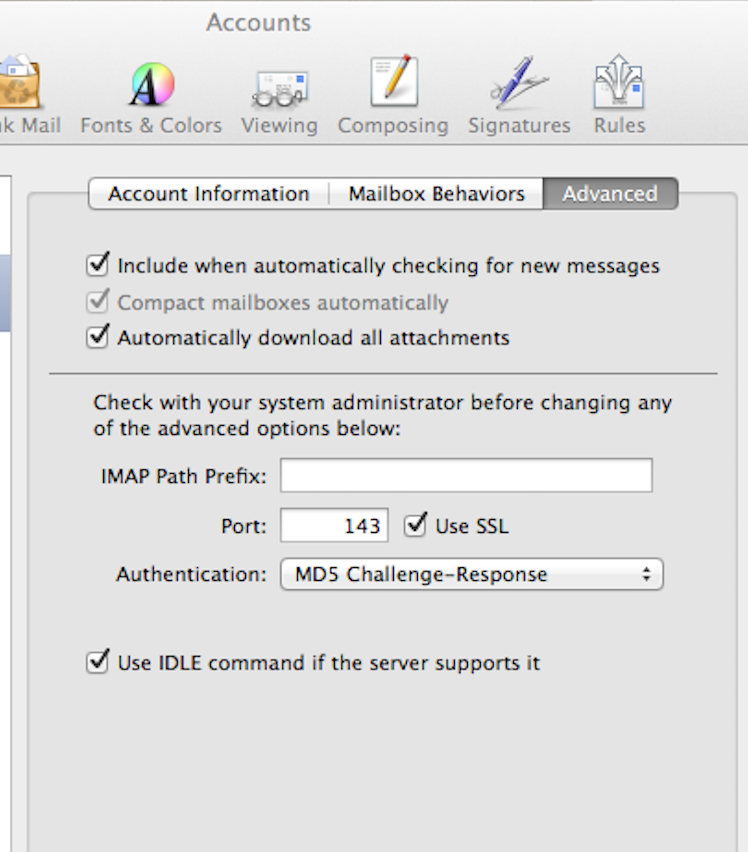 Apple IOS – iPhone and iPad
Below are some typical incoming mail settings. Use Settings:Mail:Accounts to get to this area. If you are setting the account up for the first time, Select Add Account:Other:Add Mail Account. The interface will ask for the email address and password. At the next page(s), use the Host name illustrated below.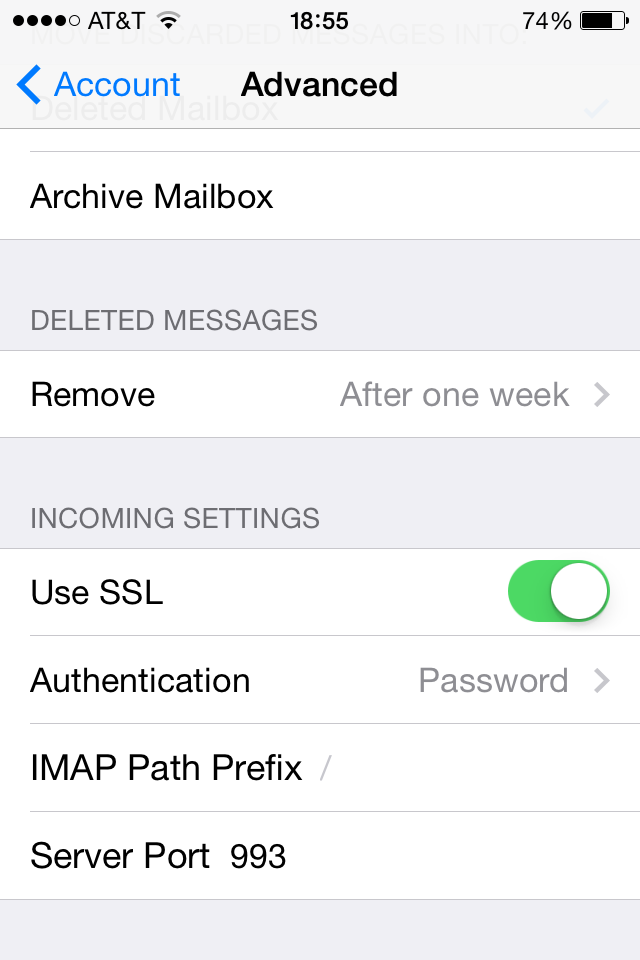 The outgoing server settings should show the following: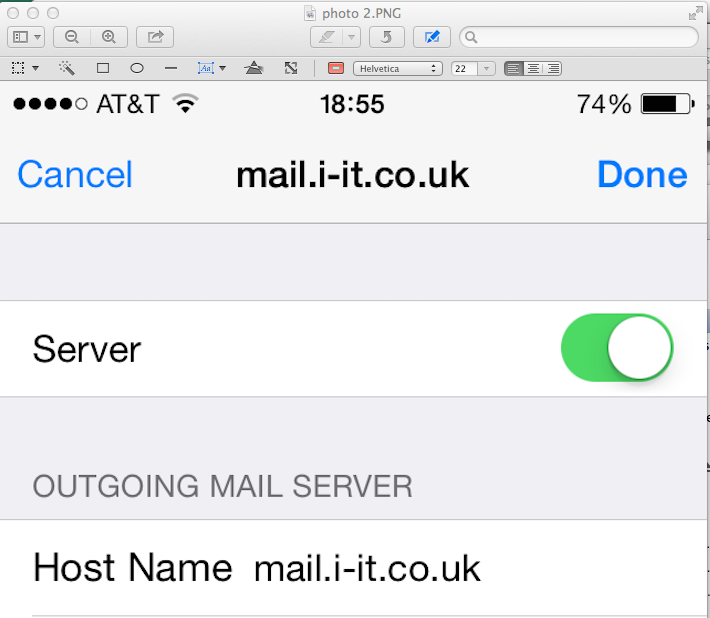 Your email account or user name string should be then entered, followed by: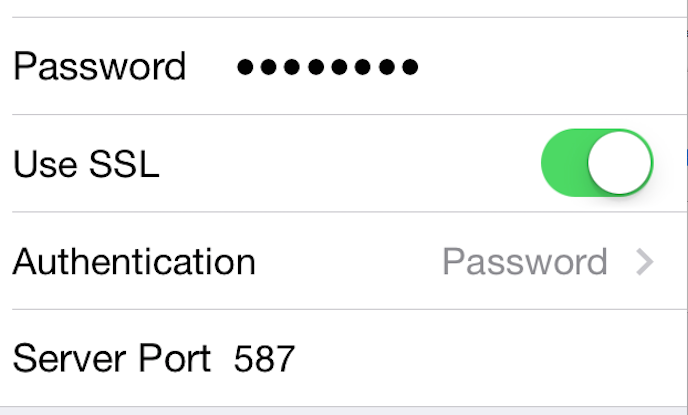 To summarize:
Server hostname for incoming and outgoing
mail.i-it.co.uk
The ports available on the mail.i-it.co.uk mail server:
Protocol – Security Setting -Port Number(s) 
POP3 (receiving mail) – Encrypted SSL – 995 
POP3 (receiving mail)- Unencrypted – 110 
IMAP (receiving mail) – Encrypted TLS – 993 
IMAP (receiving mail) – Encrypted SSL – 993
SMTP (sending mail) – Encrypted SSL – 587